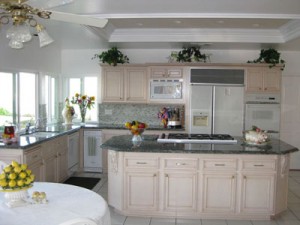 Cabinet refacing is the process of giving your kitchen or bathroom cabinets a new facelift so that they look and function, in essence, like brand new. It is becoming a popular alternative to purchasing entirely new cabinets, but before committing to this project, many homeowners want to know exactly what is cabinet refacing?
As a leader in the industry, Vianvi Signature® Cabinet Refacing is happy to answer this question for you. When you choose to reface your cabinets, your existing cabinetry remains entirely intact, except for the doors and drawer fronts. Once your old cabinet doors and drawer fronts are removed, our Signature ¼"-thick refacing material is adhered to all visible surfaces on your cabinet frames to give the impression that they are brand new cabinets. In addition, new cabinet doors and drawer fronts are custom manufactured to the exact size of your previous ones, matching the new refacing material that has been bonded to your cabinets. The new doors, drawer fronts, hardware, and molding are then installed to complete the cabinet refacing project, leaving you with cabinets that are completely updated, at a fraction of the cost of purchasing actual new cabinets.
At Vianvi Signature® Cabinet Refacing, we employ a specific cabinet refacing process that we have perfected since innovating it in 1983. This process consists of:
Taking precise measurements of all  your kitchen cabinets
Custom manufacturing new cabinet veneers, doors, and drawer fronts in our 30,000-square-foot Anaheim, California manufacturing facility
On installation day, covering your countertops and appliances and sealing the room to minimize dust in your home
Removing cabinet doors, drawer fronts, and hinges from your old cabinetry
Bonding a  ¼"-thick veneer over the existing cabinet frames in the wood species, finish, and glaze of your choice
Mitering corners using the Vianvi Signature® Corner treatment so that the exposed corners look the same as new replacement cabinets. That's right, no outside corner moldings on the face corners of your Vianvi Signature® Cabinet Refacing® refaced cabinets.
Installing your new doors and drawer fronts on your newly refaced cabinets, giving your kitchen a brand new look
When you choose Vianvi Signature® Cabinet Refacing, you can take pleasure in selecting from over 3,000 possible combinations of door styles, thermofoil colors, wood species, stains, glazes, and hardware options. Also, your cabinet refacing project can be completed by certified Vianvi Signature® Cabinet Refacing installers in as little as (3) days, allowing you to have your kitchen back in almost no time at all. In most cases, we can begin work on Monday and by the next weekend, you'll be able to invite your friends and family over to show off your new kitchen. When you want the look of new kitchen or bathroom cabinets but don't want to invest in a complete remodel, Vianvi Signature® Cabinet Refacing is the clear choice.
If you're interested in learning more about what cabinet refacing is and how it can revitalize your kitchen and bathrooms, contact your closest Vianvi Signature® Cabinet Refacing dealer today for a free quote and to learn more about how we can reface cabinets in just (3) days. If you're interested in becoming a Vianvi Signature® Cabinet Refacing dealer, click here for more information.